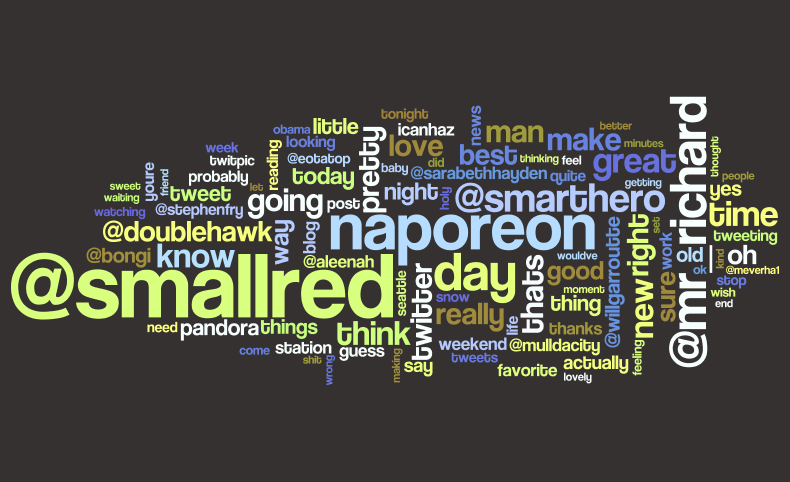 If you've been following my blog or Twitter over the last couple days, you might've noticed my sudden, gripping fascination with "wordles", a sort of word-art generated from the words most commonly used on a website/rss feed (in this case, my Twitter).
A few of you have experimented with wordles yourself, and have noticed that, using the interface provided on their website, resulting wordles only include the entries from the first page or so of your Twitter. But do not despair, Twitizens! This page will explain how to create wordles that use all of your tweets.
The steps:
1. Go to TweetStats, and enter your username.
2. Once your TweetStats are generated (it might take a little while), click on the tiny "Tweet Cloud" tab, near the top of the page.
3. Underneath your Tweet Cloud, you will see a Wordle link (two, actually…one uses @[usernames], one doesn't). Click the link.
4. This is your full wordle, including the text from every tweet you've made. Tinker a bit, until you're happy with it. Done.
5. OPTIONAL: Save your wordle to their online gallery, and tweet a link. I love looking at other people's wordles even more than my own.
Also, as a note: You cannot right-click>"Save Image As…" a wordle; they are generated by a Java applet, and are therefore not allowed to right to your disk. If storing your wordles in the online gallery isn't enough, and you want actual image files, you'll need to make screencaps.